Smoky Mountain Reflections
21st January 2012
Well, we are already three weeks into a new year. I've decided to do things a little differently for a while in my blog section of the site. I'm going to be posting mini facts and tidbits about the Smoky Mountains and things pertaining to the many buildings, wildlife and wildflowers. The land of Blue Smoke holds a special place in our hearts and we've enjoyed visiting and photographing it's many treasure.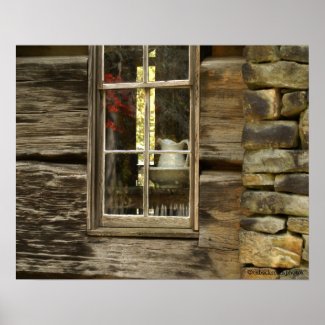 Smoky Mountain Reflections
A rustic view through the window of a mountain cabin reflects memories from the past. A portion of the old chimney is shown along the outside wall with a reflected view of the interior of the kitchen. Several out buildings and barns surround the house giving a glimpse into the way of mountain farm life in the Appalachians. This pioneer cabin is located at the Mountain Farm Museum in the Smoky Mountains just outside Cherokee, NC. Built by John Davis, this cabin is just one of many historic buildings preserved by the park for future generations to enjoy.
Tennessee Backroads Photography